SHENANDOAH SPRINGS RETREAT CENTER
BED & BREAKFAST
Shenandoah Springs Country Inn, Camp, Retreat Center, Bed and Breakfast Doug, Anne, Mark, Beth and Jeff Farmer
You'll think you're lost as you drive down the 300 year old wagon trail looking for Shenandoah Springs. It will seem as though there is nothing but forest, deer, turkey, and pasture. However if you saw the sign for Shenandoah Springs you're on the right road.
The Summer Camp and Retreat Center is owned by the same folks that own the Bed and Breakfast; in fact the Camp and Retreat Center came first. And the road really isn't that bad, buses from Northern Virginia travel it all the time going to the Retreat Center.

(left: Collage Picture of Summer Camp; one of the many activities we offer)

BOOK NOW FOR WINTER, SPRING and SUMMER 2012.
We're open all year long and can handle groups from 1 to 150. Massanutten Ski Resort is only 30 miles away. We're a great place to stay for the right price and a quick commute to the slopes.
Some annual events to consider:
March
- Trout season starts and the rivers and streams are flowing

June
- Blue Grass Festival at Graves Mountain Lodge, Syria, Virginia

July
- Madison County Fair

September
- Taste of the Mountains Festival, Madison, Virginia

October
- Apple Harvest Festival at Graves Mountain Lodge, Syria, Virginia

November
- Montpelier Horse Races, Montpelier Station, Virginia

Check out the local happenings using the link buttons above.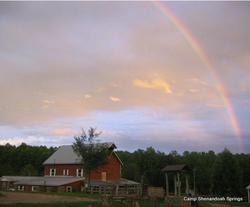 History
The Farm was first established in 1740 by American Walker Yowell and his wife, Jane Snyder. They were the first land owners in the area to acquire 1,000 acres. It was a working farm that raised tobacco with the help of 12 to 14 slaves. They're buried on the farm.

Anne and Doug Farmer saw an ad for the farm in the Washington Post and came down in February of 1981 to look at it. The house hadn't been lived in for more then a year. Through the help of family and friends they updated and remodeled the original house from 1740, completely restored the house from 1837, and turned the barn into a mini hotel with 55 beds and a dining room for 150 plus. On the far side of the property their son Jeff built a log cabin near the 10 acre bass, canoeing, and swimming lake. Since 1981 they've added 5 buildings for a total of 8 buildings with 150 beds.
Shenandaoh Springs has served many people from all walks of life and many countries throughout the world. The University of Paris sent 600 students to Shenandoah Springs for the summer of 1993 so that they could see America at its best. With the help of their son's Mark and Jeff and their wives Michelle and Pam, daughter Beth and her husband Eddie, 9 grandchildren, stockholder Louis Gonzales and friends they continue the tradition of serving all those who come for rest and relaxation. We look forward to seeing you soon.
Best Price in Virginia
We offer 3 meals, a place to stay, and use of all facilities for as little as 35.00 per day (B&B price range is greater depending on season, length of stay, and availability; all prices subject to change so make your reservation and lock in now). We're a great place for Family Reunions, Church/Youth Groups, or Camp/Retreat activites. We specialize in giving your group a place to come and meet, facilitating your needs while allowing you to operate your own program. All buildings are heated, most have fans and many have Air Conditioning. E-Mail or call us and let us know what you think. We're glad to answer any questions.

Please Sign our Guestbook below or on the guestbook page using the hot buttons to the left.

Don't forget to check out the other pages using the hot buttons at the top of the page.
Shenandoah Springs Map
29 South, West Hoover Road,
go @ 7.4 miles (look for Shenandoah Springs sign) turn right on Duet Road
go 1 mile and vear right on Whippoorwill Road, go 1/2 mile vear right on Stage Coach lane
Go 1 mile and vear right in to Camp Shenandoah Springs
Link to Map http://mapquest.com