Outdoor Education Page
Outdoor Education
We also offer an Outdoor Education curriculum for all ages in which we teach love and appreciation of God's creation.
Deer in the Snow
Being on the eastern slope of Shenandoah Mountains is a blessing in natural beauty and abundance of wildlife.
Home School Educators of Virginia
We also work with the HEAV in teaching courses to Home School kids. We offer many required curriculum science and biology courses throughout the year. We have classes from May through October of every year as well as prescheduled classes throughout the year to meet your needs.
Christain Web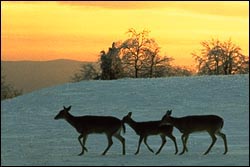 Curriculum
We offer many courses including:
Tree Identification
Wildlife Habitat
Horse/Equestrian Skills
Aquatic Wildlife
Low Ropes Course
Land Navigation
Star Identification
Stream Habitat
Geology
Christian Camping International
We are proud members of Christian Camping International which promotes the responsible stewardship, protection, and enjoyment of God's creation. Check out their web site using the hot button to the left.
Red Tail Hawk
One of the birds of prey that abounds in our area.