About Shenandoah Springs
Rates and Amenities
Shenandoah Springs
This is a family oriented business which promotes Family values and Christian principles. We are an Independent Inter-Denominational Christian Retreat facility which receives no funds from any specific denomination. We're also members of Christian Camping International. We fully love, except and encourage all races, creeds, and nationalities to enjoy the beautiful world that God has created at Shenandoah Springs.

(picture of White Oak Falls)
The Story Behind Shenandoah Springs
Out of the Shenandoah Mountains flow water that is touched only by the hand of God. Our facility is fed by over 7 springs of pure water flowing from the nearby Shenandoah. If you're looking for a get away, this is it! The camp just adds to all there is to do. There's a 10 acre lake with diving board, rope swing, canoes, paddle boats, sailboats, and kayaks. You can fish for bass, catfish, or crappie. We have full court basketball, beach vollyball, ping-pong, archery, and a small arms range. If that's not enough we also have a ropes course, outdoor education center, and we teach aircraft flying and water skiing. We also have horses and 3 licensed instructors including Ulrike ("Hike" from Germany) who teaches equestrian skills and trail riding.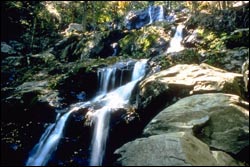 Rates and Amenities
Breakfast 4.00 Lunch 5.00 Dinner 6.00
Springview, Honeysuckle, Heritage, Cherokee 20.00 per night (sleep 15 per building)
Thunder Lodge 20.00 (sleeps 50)
Morningside 120.00 for couple (20.00 each additonal person-sleeps 11)
Sunset (sleeps 2 with full kitchen and bath)
Sunset and Morningside have Shenandoah Mountain view
Ark 120.00 (sleeps 4 with full kitchen)
Manor House 75.00-120.00 per couple per room (sleeps 11)
Uncle J's Log Cabin 40.00 (sleeps 4)
Choctaw and Teepee 10.00
All prices are per night per person unless otherwise specified and are subject to change. Group size and number of nights may decrease per night charge. Use of all amenities is included in price.
Horses are 25.00 per lesson (@ 1.5 hours)
Heritage and Springview/Honeysuckle have a seperate kitchen and require a 50.00 fee for use. Linens are available for 3.00 per visit.
Musicial Instruments, PA, and overhead projector and screen are available for an additonal 25.00 per visit.
We offer physically challenged facilities.
We don't allow dogs.
We only except cash and checks (no plastic - it saves us both money)
We require 1st nights lodging to reserve your room(s) mailed to:

Shenandoah Springs
P.O.Box 770
Madison VA 22727.
(540) 923-4300
(prices subject to change without notice)
Email Me!
Links (Sites of Local Interest)